AERODYNE GLIDERS

Aerodyne's philosophy:

"Pleasure is our key word..."

"For more than 15 years free flying has been a heartfelt passion for us. We have chosen to remain faithful to our philosophy: by creating gliders that bring maximum enjoyment to all of those pilots who feel that the enjoyment and pure pleasure of flight is their entire reason for flying...this implies that our gliders are easy to fly, and that their turns are an optimal balance of roll, yaw and pitch. To put it simply you should let your wing guide you, it knows the way to cloud nine...fly high and far...with Aerodyne gliders."
---
Blue Thermal is proud to bring Aerodyne paragliders to the Canadian market. Aerodyne is a French manufacturer based in Annecy, one of the birthplaces of paragliding and a world renowned mecca of the sport.
Aerodyne is led by Michel Le Blanc, an engineer who has been designing gliders for over 18 years. Michel is a true pioneer, not only in paragliding design, but also in the design of high performance kites and windsurfing sails. He is joined by a team of experts from the former Flying Planet.
Aerodyne manufacturers its own wings and maintains the highest level of quality control. Their products are also exceptionally durable, being made of the best combination of materials and the longest lasting cloths available today.
We offer an extensive range of wings for pilots of all levels. Whether you're just a beginner who is learning to fly, a tandem pilot, or a serious competition pilot, you are sure to find a wing that suits you.
To view Aerodyne's line of products click on the pictures below. Please email us for the complete price list.

YOGI-Beginner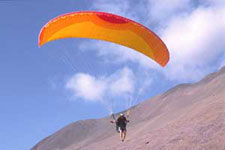 SHAOLIN-Intermediate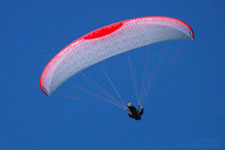 DUNE-Sport

SHAMAN-Performance

MASSAI-Competition

CHEROKEE-Tandem

SHANI-Tandem/Paramotor

PILLOW-Reserve Parachute
Check out Aerodyne's accessories and T-shirts . Right click on the T-shirt of your choice to zoom in on the design and email us for prices.